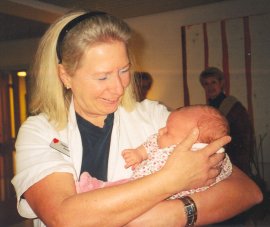 Christine Felding, M.D trained at a number of different hospitals in Copenhagen, including four University hospitals, and became a specialist in Obstetrics and Gynaecology in 1986. After receiving her specialist accreditation she worked in Sweden, Norway and Finland and also more exotic parts of the world including Hungary and Saudi Arabia. Dr. Felding speaks Danish, Swedish and English fluently and German and French well. Until 2020 she  worked as a consultant gynaecologist and had her own clinic in Rungsted Kyst north of Copenhagen.
Dr. Feldings practice embraced women of all age-groups and she offered a wide variety of advice and treatments including advice on contraception and the treatment of cervical dysplasia, check-ups and ultrasounds for pregnant women, including pictures, hormone replacement therapy and also incontinence treatment.
Finally, Dr. Felding lectures regularly on the subject: Hormone Replacement Therapy – is it worth it? Remember…. prevention is better than cure and Dr. Felding sees many women who are not ill but simply being conscientious about booking their annual check-up.