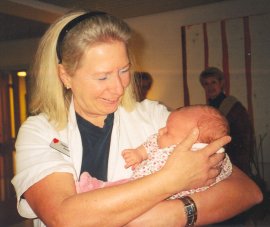 Christine Felding, M.D trained at a number of different hospitals in Copenhagen, including four University hospitals, and became a specialist in Obstetrics and Gynaecology in 1986. After receiving her specialist accreditation she worked in Sweden, Norway and Finland and also more exotic parts of the world including Hungary and Saudi Arabia. Dr. Felding speaks Danish, Swedish and English fluently and German and French well. She currently works as a consultant gynaecologist and has her own clinic in Rungsted Kyst north of Copenhagen. The clinic is situated close to the railway station in Rungsted Kyst which is easily accessible by train from any station in Copenhagen. She here employs two other specialists namely Dr. Kim Toftager and Dr. Priya Chauhan. All consultants speak fluent english, danish and swedish. Some of us also speak german, french, urdu and hindi.  There is no waiting list as we are always two specialists on duty every day.
We can offer consultation the same or the very next day in most of the cases!
In cases of emergency-like bleeding problems during pregnancy etc. the patient can be seen the very same day.
Our clinic also offers help for men going through age induced condition called the `male andropause' (similar to the female `menopause´). Due to this condition, which is less known and talked of in public, men can experience lack of concentration, energy, initiative and memory. Changes in libido and sexual performance can be also experienced. Dr. Kim Toftager, has expertise in investigating and treating this condition. A through check-up including blood tests, ultrasound of testes and prostate examination can be offered.
Dr. Feldinsr practice embraces women of all age-groups and she offers a wide variety of advice and treatments including advice on contraception and the treatment of cervical dysplasia, check-ups and ultrasounds for pregnant women, including pictures, hormone replacement therapy and also incontinence treatment.
Finally, Dr. Felding lectures regularly on the subject: Hormone Replacement Therapy – is it worth it? Remember…. prevention is better than cure and Dr. Felding sees many women who are not ill but simply being conscientious about booking their annual check-up.
Don't hesitate – call today!